"Sustainable environment is the basis for a healthy society." – Ta Wee
Seow Ta Wee is a professor in environmental management and solid waste management at the Department of Construction Management, Faculty of Technology Management and Business, Universiti Tun Hussein Onn Malaysia (UTHM). He joined UTHM in 2002. He has more than 21 years of teaching, research, and consultation experience. He obtained his PhD in Environmental Management from the National University of Malaysia under the scheme of National Science Fellowship (NSF), where he also received his Master's in Environmental Management and Bachelor's Degree in Arts (Geography).
Currently, he is the Head of the Centre of Sustainable Infrastructure & Environmental Management. Prior to this, he was the Deputy Director of the International Office from 2014 to 2016, Deputy Dean (Research & Development) from 2012 to 2013, Head of Department of Construction & Real Estate Management from 2009 to 2011, and Head of Academic Quality Unit, Centre for Programme Development & Training from 2008 to 2008. Apart from that, he has been appointed as chairman of several international conferences since 2014. Moreover, he has contributed his diverse expertise to multiple projects carried out by UTHM and to the development of programmes in FPTP.
His transdisciplinary and interdisciplinary research covers aspects of the environment, geography, construction sociology, and social return on investment (SROI), which also touches on the current niche area of UTHM's research areas, especially in the fields of environmental and solid waste management.
Besides having a broad range of teaching experience in UTHM, he was also appointed as the Guest lecturer by the Faculty of Engineering and Post Graduate Programme at Universitas Kepulauan Riau, Batam, Indonesia, Visiting Research Scholar at the Department of Geography, University of Sri Jayewardenepura, Sri Lanka, Visiting Professor Programme under Post Graduate Programme, Universitas Labuhanbatu, Indonesia. He was also involved in research consultation at the national level such as developing the National Occupational Safety, Health and Environment Policy under the Ministry of Human Resource, Perception of Bumiputera on Technical and Vocational Education and Training Provided by Majlis Amanah Rakyat (MARA), Committee member of amendment of University & University College Act 1971 (AUKU) 2012, Master Plan for Johore's Forestry Strategic Plan 2016-2025, reviewer of the master plan of solid waste management and knowledge transfer on Sustainable Development Goals (SDGs) at local authority's level. He was also appointed by the Malaysian Qualification Agency (MQA) as an expert programme quality assessor in his related field since 2014 and assessor for APEL.A and APEL.C since 2022, Panel for Ministry of Science, Technology and Innovation (MOSTI). He delivered more than 40 times as a keynote speaker and inaugural lecturer at the international level.
He was involved in the ASEAN Autism Mapping and Policy Development Project as one of the principal researchers and the programme facilitator from the Asia-Pacific Development Centre on Disability sponsored by the Japan International Cooperation Agency (JICA). He was also appointed as the head of the project for Knowledge Transfer on waste to energy in ASEAN granted by the Canadian Trade and Investment Facility for Development (CTIF). His total research and consulting funds have reached a value of more than 4.5 million Malaysian Ringgit. Many of his projects have significantly impacted the country's socio-economic development and at the level of the ASEAN region. Through these research works, he also managed to win several national and international awards.
He has supervised post-doctoral students and more than 30 postgraduates. He has also been appointed as an internal and external examiner for PhD and Master's students from other universities including The Hong Kong Polytechnic University. He has also published more than 350 publications including books, conference articles, journals, and technical reports. He has served on the editorial board of international journals and is currently involved in several international bodies such as the International Council Monument and Sites (ICOMOS) Malaysia, Social Value UK, Malaysia Board of Technologists (MBOT), World Academic-Industry Research Collaboration Organisation, International Society for Development and Sustainability (ISDS) and The Global Academy. He is also actively involved in local community development programmes such as Sustainable Development Goals programmes, waste-to-energy awareness programmes, recycling programmes, environmental talks, and motivation and self-development programmes in collaboration with local authorities, schools, NGOs, and other higher education institutes.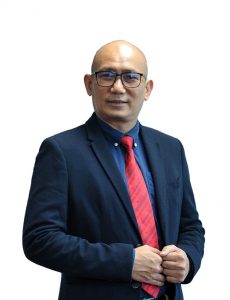 Professor Ts. Dr. Seow Ta Wee
Universiti Tun Hussein Onn Malaysia (UTHM)