"Please do not worry. We will not shut down the whole country, states or districts again," said Prime Minister Ismail Sabri Yaakob on 23 January 2022.
The statement was joyful news for the Malaysians, especially for Muslims, because they did not get the chance to celebrate Eid-ul Fitr with their family members for two consecutive years. Indeed, it is not something that they would want to miss. By now, some might already be on a shopping spree to get themselves ready for Raya. Items like 'Baju Melayu,' 'Baju Kurung' and 'Kuih Raya' will be at the top of their list. At the same time, others might be just as busy planning for the menus that they will whip up for the open house. These are what people have been looking forward to when it comes to celebrating Eid-ul Fitr.
The past two years have brought changes in how we celebrate Eid. Those who lost their family members to the Covid-19 virus had to celebrate it without their loved ones by their sides. Although death is inevitable and can happen to anyone, people who lost their loved ones to Covid did not get the chance to see them before the funeral, especially when they cannot travel back due to MCO. Hence, the remaining family members have to adjust to celebrating without their presence.
Previously, when planning for the 'balik kampung' trip, people were often reminded to check their vehicle and make sure that it was in tip-top condition to ensure a smooth journey. Now, a new routine needs to be added to the plan. One must complete their vaccination and get tested for Covid-19 before going back to their hometown to visit their family, especially if their parents and grandparents are still around. Since the elderly are in the high-risk category, it is better to be safe than sorry.
Besides that, our Eid outfit is also added with new accessories such as face masks. Fashionistas would usually have a collection of face masks that match their Eid outfit and perhaps their handbag. This includes both genders. This year's Eid would be the year that people splurge on new clothes since they missed the chance to don new outfits for the previous Eid, and also maybe because they just had to get the new measurement since some gained or lost weight during the MCO.
Not to forget, since we are still in the middle of the endemic, one could be unlucky if they catch the virus and miss the chance to celebrate with their family because they have to isolate themselves. Fret not; the experience of celebrating Eid on our own for two years will come in handy. There are still ways to find the joy of Eid-ul Fitr despite being in quarantine. One can have a zoom session and prepare a game slot with exciting prizes (like chances to increase the amount of their 'Duit Raya'). A game like 'Virtual Treasure Hunt' would be fun where you make your family members find the item that is already available around their house within the time given. Once they find the item, they will have to show it to the camera to be approved. The young ones usually had the most fun going around the house trying to find the items and got very competitive. So be prepared for their surprise meltdown show when they are about to lose the game.
Though we are all excited to celebrate the festival, we must not forget that we are not yet 100% free of the Covid-19 virus. It is essential that everyone continues to follow all the SOP and preventive measures to celebrate this Eid-ul Fitr safely and joyfully. Happy Eid-ul Fitr everyone!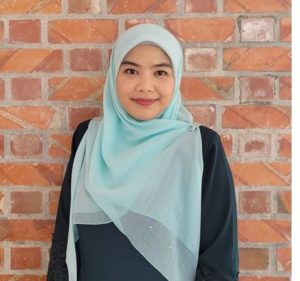 Lina Zainal
Language Teacher
Centre for Language Studies (CLS)
Universiti Tun Hussein Onn Malaysia (UTHM)