Recently, my huge family of four celebrated my daughter's birthday over dinner at home. She wanted a 5' salted caramel cheesecake. It was a family favourite flavour and to be honest, we were all excited to finally have an excuse to eat a proper good cake! By the time we finished the quick and intimate dinner, my youngest brought the cake out. The birthday girl's face lit up brighter than the cake that was adorned with an insane number of candles. All of us began to sing a pretty off-key but joyous birthday song.
And then, it happened.
At the end of the song, my daughter made her wishes and blew over the candles.
With that one gesture, for a moment, everyone including her, went silent when the reality set in.
Are we all now supposed to eat a food item that someone just blew their hot breath all over? None of us knew what exactly to do next. All we knew was that it felt extremely strange, illegal even, to even think about cutting the cake and distributing for all of us to eat. Of course, we all wanted to taste the birthday cake and join in the fun, but what about possible contamination? Plus, I did not want to offend my daughter on her special day!
Finally, the birthday girl's chirpy voice broke the tension, "I guess I'll just have to finish the whole cake myself." She seemed oddly happy with the turn of events.
Covid19 – 1, Me – 0. 
Something told me it may have been her devious plan all along; but let us not get into that. I guess my point is that this disease has shaken us up in more ways than we could have ever imagined. There was a time where we used to have birthday celebrations, and everyone would be waiting to get a taste of the birthday cake. There was a time where relatives used to visit during festivities, hug one another and exchange pleasantries. Friends and families would share so many funny stories and the whole house would shake with laughter and good vibes. I still remember, by the time all those delightful aunties left, my cheeks would be decorated with pink and red lipstick stains.
I used to feel so annoyed. But now, I regret not cherishing those moments more. Today, as much as I want to hug my niece and wish her luck for her getting her dream job, I can only utter those words from a meter away. I wonder if she could even see how happy I am for her, under this mask. Well, demands of the time are such. What other choice do we have than to adapt and survive? I am thankful that I am at least healthy and fit to be around my family and friends while still observing the new social norms. It is better this way than losing them forever due to recklessness, am I right?
As for the upcoming Deepavali celebration, I have decided to be more like my daughter. It is okay if there is going to be less people or nobody around; it only means that there's more food for me! *wink wink*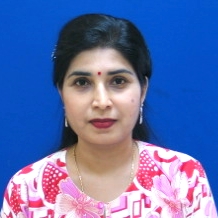 Dr. Sarala Thulasi Palpanadan
Senior Lecturer
Center for Language Studies
Universiti Tun Hussein Onn Malaysia (UTHM)